Professional,

Detailed

Home Inspections in Wichita KS and Surrounding Areas
Providing Peace of Mind in a Profound Way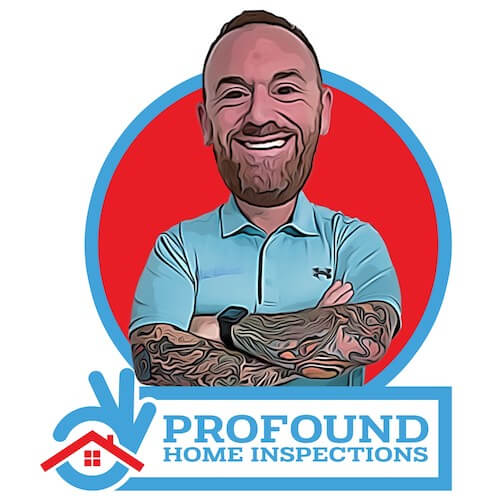 Quality

Home Inspection Services
Our company takes pride in the relationships we build with our clients and the quality of inspections we provide on each and every home. Using the leading technology in the industry, we provide home inspections that ensure your family is safe in your new home, and that the home is a good investment for you and yours. We are here to help every step of the way. Learn more about how we can help you at our inspection services page.
Providing
Peace of Mind

in a

Profound

Way
Profound Home Inspections is prepared to be honest and inspect your home with integrity. We are completely dedicated to our customers, and their needs. Our number one goal is to protect our customers and keep their needs top of mind, always. We focus on inspecting homes like we would for our own family, because we know the importance of trust in the home inspection process.
Professional Certification
We're certified through top inspection programs in the country. Being a certified member of both ASHI and InterNACHI requires continual education minimums on a yearly basis.
Advanced Technology & Tools
We use the best technology and tools to provide you with as much information as possible about your potential new home. This includes, but not limited to, Infrared Cameras, Laser Levels, Aerial Drones, Moisture Meters, Circuit Analyzers, Combustion Gas Meters, CO Sensors etc.
Thorough Reporting
Profound Home Inspections has a 3-hour minimum for a home inspection. We are very thorough and detailed when inspecting your biggest financial asset. Our easy-to-read reports set us apart from other inspection companies in Wichita, Andover and Derby Kansas.
Profound Purpose
Our PROFOUND purpose is to educate and empower home buyers to be better home owners through thoughtful consultations, detailed reports and on-site services.
Purchasing a home is a big financial investment. More than likely, this will be one of the biggest investments of your life. A home inspection is a cost effective way to discover the overall condition of a home. It is crucial to have any home inspected prior to purchase, to possibly avoid a costly mistake by purchasing a property in need of major repairs.
A home inspection can give the buyer information needed to negotiate repairs that may be needed prior to purchase, or even pertinent information that could in fact, allow for a price drop on the purchase price of the home.
KELSEA MILLER
First-Time Home Buyer
Couldn't say enough good things about Jake and his business! His inspection report was very thorough and detailed, which is exactly what I was looking for as a first time homebuyer. He was also easy to reach with quick response. If I ever need another home inspection, I would 110% use Profound home inspections again!
Professional

Home Inspection Services
When it comes to the real estate transaction process, it can be stressful, and honestly, confusing. There is so much to try and keep track of, from dealing with agents, title & escrow companies, appraisals, and so much more. We are proud to offer home inspection services that are accompanied by a detailed & professional report to help keep the process as stress-free as possible. 
Buyer's Pre-Purchase Home Inspection
Whether you're trying to pre-qualify for a mortgage or selecting the right real estate agent, nowhere in the process should you worry if the home is safe to move your family into.
Seller's Pre-Listing Home Inspection
Many homeowners choose to get a pre-listing inspection because it will give them insight into their home so that they know what to expect and can make repairs before listing their home.
Builder's 11-Month Warranty Inspection
Just because your home is new, doesn't necessarily mean it is defect-free. At your 11-month mark, take advantage of your last chance to take advantage of your warranty!
Thermal Imaging
Thermal imagery provides an immediate look at the condition of the home, without having to tear anything apart to see inside of walls.
Radon
Testing
Radon is the 2nd leading cause of lung cancer in the US. Make sure you and your family are protected by getting your property inspected.
Sewer
Scope
Are sinks and tubs emptying too slowly? We use a special camera to scope the sewer line to visualize any blockages that are interfering with the plumbing system's proper drainage.
HUD Permanent Foundation Inspections
A HUD engineering foundation inspection is performed to conduct a structural inspection of your manufactured home.
Mold Testing
When a musty smell is present in a home or visible fungal growth is present, surface sampling of the growth or conducting Indoor air quality testing will give you the information needed to determine if the growth or smell is indeed mold.
Stucco & EIFS Inspections
Profound Home Inspections provides Certified Stucco Inspections as well as Moisture Testing on Homes clad with traditional stucco or EIFS (Exterior Insulating Finish System).